Tickets » Red Theatre Discount Booking
---
We are the official Red Theatre ticket seller, with the lowest price guaranteed.
Booking form and discount price list below!
Currently 1 show daily. Show starts at 7:00PM from December 1st!
The Legend of Kung Fu Show lasts for one hour in total.
---
Seat Map & Discount Ticket Price List
Prices are displayed per ticket in Chinese Yuan (CNY).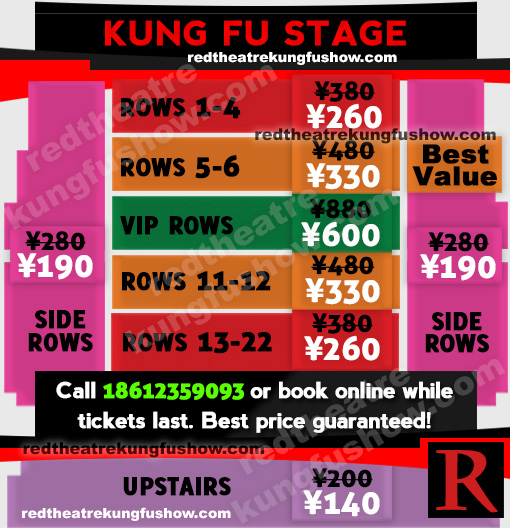 Red Theatre does not guarantee a specific seat number. Please come to pick up
your tickets in time to get the best possible seats from your seat section.
If you are late or cannot come, please let us know as soon as possible!
You can call us at 18612359093 or contact by e-mail.
---
Fill in the online ticket booking form or just call us to reserve your seats. See the price list and seat map below.
Receive a booking confirmation by e-mail or phone. Please, let us know that you have received your booking.
Please make your reservation as early as possible. Tickets can get sold out.
Come to the Red Theatre ticket window 30 minutes before the show starts. Show the name of your reservation and our phone number (18612359093) to get your discounted tickets!
Pay cash or credit at the counter.